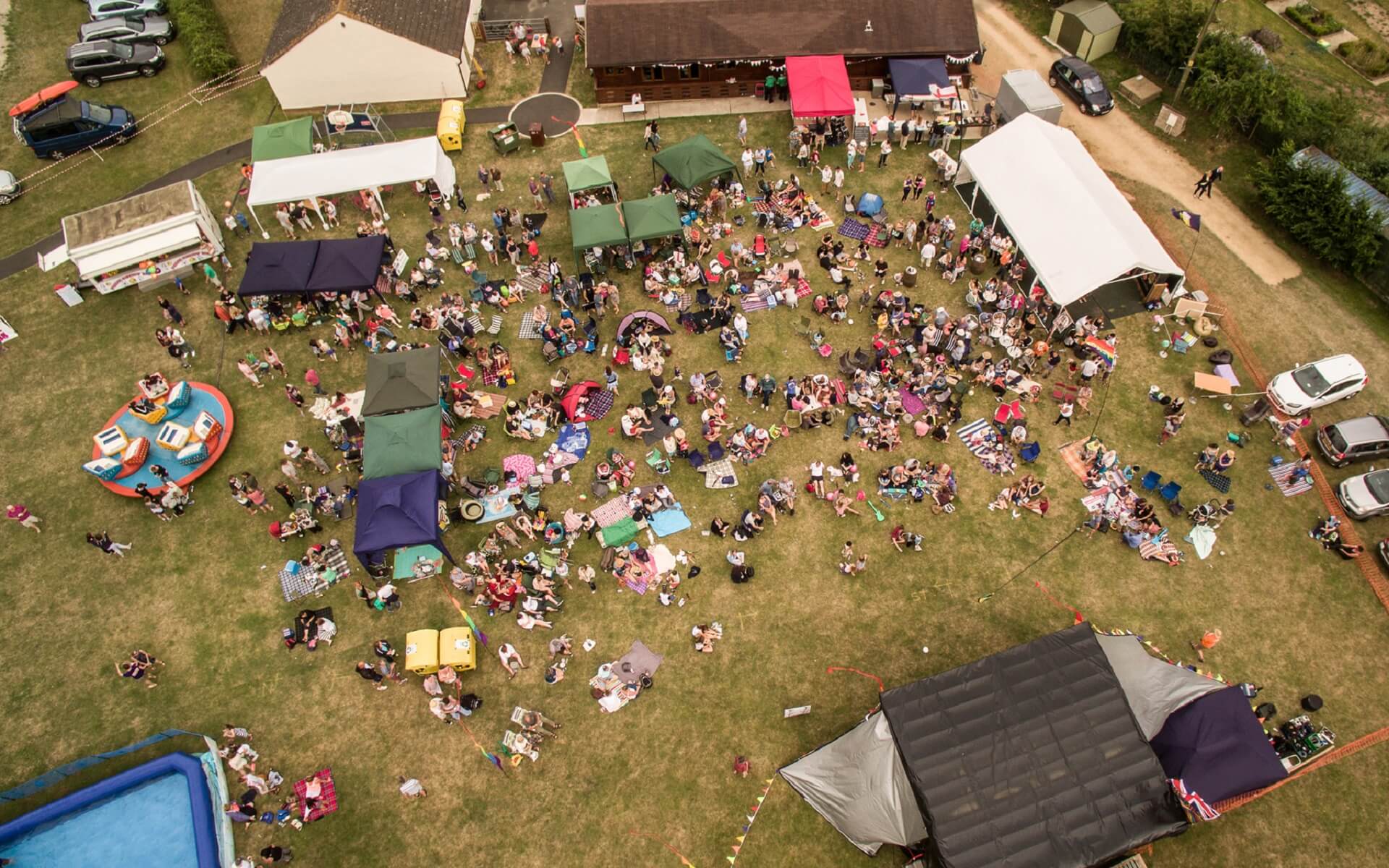 INFORMATION
AS WE COUNT DOWN TO ECKSTOCK 2020 WE ARE GETTING VERY EXCITED AND HOPE THAT YOU WILL SEE AND HEAR THE DIFFERENCE AS WE TRY TO MAKE THE FESTIVAL THE BEST YET! WE HAVE AN EXCITING PROGRAMME OF MUSIC AND ACTIVITIES THAT WILL KEEP ALL THE FAMILY OCCUPIED AND INTERESTED. WE HAVE LISTENED TO THE FEEDBACK FOLLOWING LAST YEAR'S ECKSTOCK AND HOPE THAT YOU WILL FIND THE FESTIVAL A TRULY MEMORABLE VILLAGE EVENT, AFTER ALL ECKSTOCK IS 'MADE IN ECKINGTON', IT'S YOUR FESTIVAL SO IT'S GOT TO BE GOOD!
---
THE CRUCIAL STUFF
When does it all kick off?
The gates open at 12:00pm and the fun continues till 11:00pm.
Where does the magic happen?
Eckington Recreation Ground, Pershore Road, Eckington, WR10 3AJ
Can I park?
Yep, we have a massive FREE car park.
Can I bring my dog?
Sorry, but only guide dogs will be allowed on the site.
What's the damage?
Adults are £7.50 each and children under 16 go FREE!
Can I bring a BBQ or have a fire?
Please no BBQ's or fires for the safety and comfort of other Eckstockers
---
ACTIVITIES
There will be a variety of great activities throughout the day, check back soon for more information and keep an eye on Facebook!
---
MUSIC
Grab yourself a programme when you arrive and check out the music section for our line-up of bands and performers… we have a host of talent, much of it from the Village, something to suit all musical tastes! Also keep an eye on Facebook for updates.
---
FOOD & DRINK
The Bell BBQ
The Bell BBQ is a regular Eckstock favourite and will once again be offering freshly cooked burgers and hot dogs and of course the legendary pork rolls from the pig roast!
Fantastically Fresh
A selection of Vegetarian and gluten free options will be available from the Fantastically Fresh stand including Middle Eastern salads, nacho trays, warm tortilla's, homemade dips and freshly Baked Bread Artisan
The Kids Bar
There will be a selection of soft drinks on offer from the kids bar for when the little festival goers get thirsty.
Smoothie Bike
If you are looking for a healthy option and want to work out for your drink, why not try the smoothie bike. Choose your fruit and then use the bike to blend it into a refreshing smoothie – nice!
The Gettem' Inn beer tent
This is no ordinary beer tent. The Gettem' Inn has a full bar offering with draught bitter, lager and cider on tap and if that isn't cool and refreshing enough there is Prosecco and Pimms, along with a selection of wines. The drinks on offer will be lower than pub prices and all the money raised goes to local causes. So soak up the fantastic atmosphere of the gettem inn and enjoy your favourite tipple – cheers!
Support the event, and the range of Village causes by taking full advantage of the fayre we have on offer… Cheers!
---
THE VILLAGE LOCK IN
It's full-on on the Main Stage until 10.00pm and then we invite you to the 'Gettem Inn' for an hour of pure village magic. We'll have late night food and drinks available along with lashings of good old Village chat and atmosphere!
---
NEED TO KNOW
As with all outdoor Festivals we are at the mercy of the weather so please do ensure you check the forecast and come suitably prepared, particularly if it's hot… sunscreen is a must.We have increased the toilet provision for this year's Festival and have dedicated Male, Female & Family toilets. Please help us by using the facilities provided. The Recreation Building facilities will be reserved for those requiring the UA toilet only. As in previous years we have St John's Ambulance on standby in case of emergency, they will be easy to spot. There will be ECKSTOCK personnel recognisable by their high vis tabards. They will be on hand to help if required, and answer any questions. Festivals can be busy and we hope this year's ECKSTOCK will be no exception, we suggest you identify the sound desk as a meeting point if you need to. We understand that people want to put down rugs, and chairs and get great positions from which to view the performers. Please do so considerately, and please abide by any instruction given by ECKSTOCK personnel.
---
Above all ECKSTOCK is a fun day, we want you to be safe and enjoy!