The Luxury No Turn Collection features three premium, hand-crafted mattresses with sustainable fibres including responsive natural Talalay latex, Solotex™, breathable eOlus™ fibres and British wool.
All of our Luxury No Turn mattresses features our ReActivePro™ pocket spring system designed to offer a more medium feel without compromising on comfort or mattress edge support. The more active turns the greater the ability to react to the contours of the body and alleviate pressure points. Each mattress within the collection has a slightly firmer spring at the mattress edge and the smart border is painstakingly side-stitched by hand to ensure support and a tailored border.
Each and every mattress in the Luxury No Turn Collection is bespoke to you and is meticulously handcrafted to bring you comfort, relaxation and pleasure. With different upholstery layers and spring tensions throughout the collection, you are able to choose the level of comfort that you'll find most refreshing and restful.
Premium, handcrafted mattresses designed for a fresh and comfortable night's rest
Each Luxury No Turn mattress features layers of highly responsive natural Talalay latex for a truly sumptuous feel.
With contain British wool, fairly bought and traceable through The Woolkeepers® initiative to assured farms
eOlus™ recycled fibres, alongside the pocket springs, allow air to flow around the mattress and moisture to dissipate.
Luxurious woven natural cotton sleep surface – fire-resistant without the need for FR chemicals.
Designed to be recyclable at end of life.
No turn, rotate with the seasons.
Single tension only
Soft and luxurious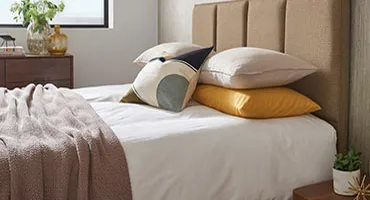 Specially engineered and crafted for easy maintenance and handling without compromising on comfort – there is no need to turn, only rotate.
Natural Latex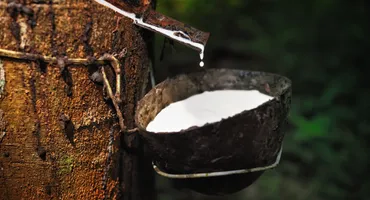 Responsive feel from a natural material tapped from rubber trees and free from any kind of chemicals. Latex ensures a sumptuous sleep experience and helps keep the body cool thanks to its breathability.
British Handmade Quality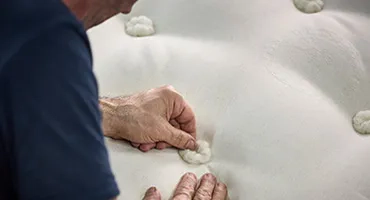 Finely crafted mattresses made with Hypnos' assured attention to detail – hand tufted with a signature God of Sleep woven fabric, and meticulously hand side-stitched borders.
Luxury No Turn 6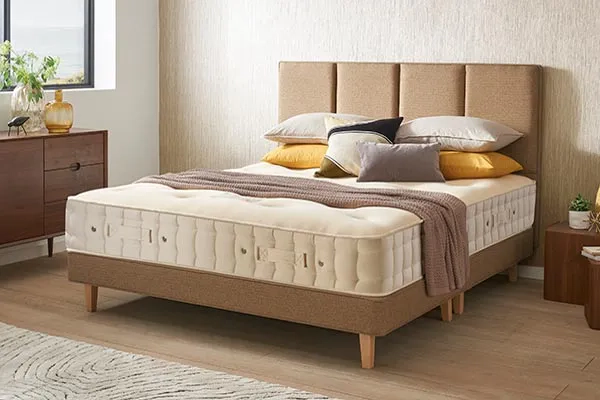 This Luxury No Turn 6 mattress has a responsive feel thanks to the combination of natural latex and pocket springs.
Sustainable fillings include a layer of Talalay latex, which is free from chemicals and tapped from rubber tree plantations. In addition, the mattress is upholstered with soft Solotex™, traceable British wool certified to the Responsible Wool Standard, and breathable and recycled eOlus™ fibres.
Luxury No Turn 8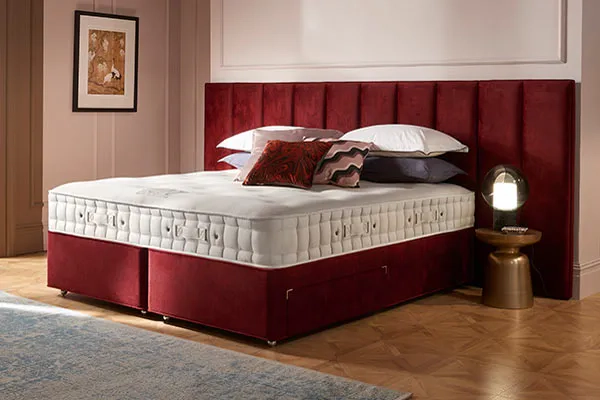 The ReActivePro™ 8-turn pocket spring system provides total support for supreme comfort, all night long. Luxuriously upholstered with British wool, natural Talalay latex and Solotex™.
With a smart hand tailored border with two rows of genuine hand side-stitching for support across the surface of the whole mattress. Wrapped in Hypnos' signature unbleached cotton fabric, responsibly sourced and free from FR chemicals.
Luxury No Turn 9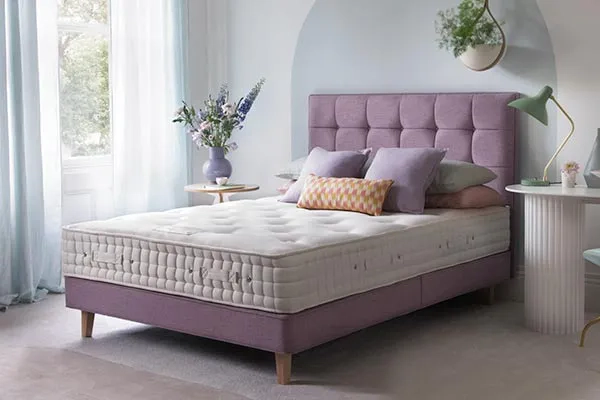 Breathable layers of Talalay latex, British wool and Solotex™ luxury cushioning combine with ReActivePro™ pocket springs to create this sumptuous, supremely comfortable deluxe mattress.
The Luxury No Turn 9 mattress has a truly sumptuous feel with three layers of responsive natural Talalay latex. Together with a plush layer of Solotex™ traceable British wool certified to the Responsible Wool Standard, and breathable and recycled eOlus™ fibres these layers create a supremely comfortable sleep experience.
Featuring our premium ReActivePro™ 9-turn pocket spring system with in-built Triple Edge Protection™, each spring senses your shape and weight distribution to provide total spinal and body support.