The Treca Mattress
Over the past 80 years, Treca Paris has developed a reputation for quality across the globe and has become an important brand synonymous with premium luxury. Over the years Treca has remained faithful to its ethos of offering French craftsmanship, design and know-how with each Treca Mattress still made in France to this day.
What makes a Treca Mattress stand out is their use of the finest and rarest raw materials, hand-finishing techniques and the ability to choose personal specifications and dimensions. The team selects the finest materials with the greatest care and consideration to ensure their mattresses give outstanding comfort and support night after night. The designers and craftsmen use a luxurious combination of Merino wool, silk, horsehair, mohair, hemp, alpaca, camel hair and cashmere.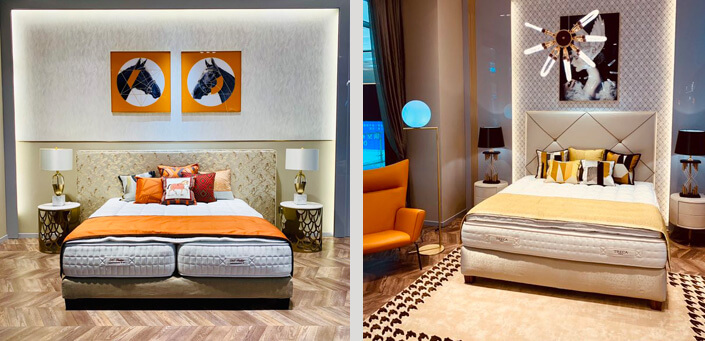 Ensuring they are consistently improving the quality and comfort of their beds, Treca Mattress has pioneered articulated relaxation beds with their CAD bed bases. They now offer two lines of articulated bases, which combine the comfort of a traditional high quality bed base with an outstanding movement mechanism. The Supercad adjustable bed from Treca Mattresses Paris is now available to experience in Westend Bed Company's purpose-built Sleep Room.
With the revolutionary Supercad bed, the technology is discreet. The pocket spring suspension, hidden beneath the ticking, gives all the comfort of a traditional fixed bed base but four silent motors smoothly move the five independent sleeping surfaces allowing you to find the ideal position.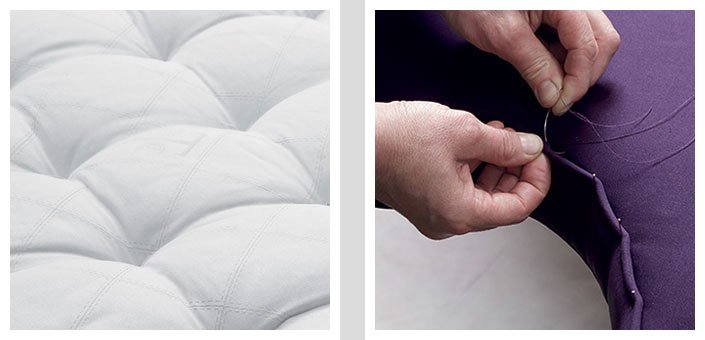 The innovative radio remote control allows you to recall up to three memorised positions to enable you to easily revert back to a preferred position. There is also a heated pad that is placed at the foot of the mattress and a home automation socket to enable the control of a lamp or other electric appliances in the bedroom.
The design and production team at Treca filled a niche in the luxury market with their adjustable beds that combine a luxury sleep surface with the convenience of being able to move the bed. This capability provides practical and comfortable sitting positions when reading, working on a laptop or watching television – an essential, must-have option in today's modern world.
Day by day, night by night, Tréca puts the extent of its know-how at the service of your sleep, so that you get a best night's sleep every day. Tréca models are designed to meet the expectations and morphology of each person, and ensure a quality sleep. Upholstery, noble materials, and hand-stitched finishes, make Tréca a prestigious and refined brand.
PARIS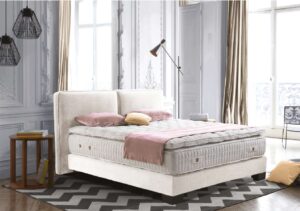 Refined precision and sensual delight are the hallmarks of the Paris collection. These models have integral vertical padding and are made entirely by hand to ensure that the materials endure the test of time and provide long-lasting comfort.
They are also characterised by refined details: the handles are stitched with the brand and model name, and the sleeping surface with the name of the line. You can adjust the comfort level of your bedding by choosing the bed base and topper designed to match your mattress.
COUTURE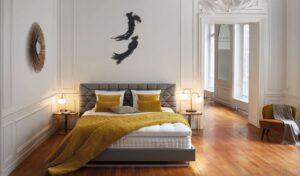 Our craftsmen wake up every morning to make quality mattresses, bed bases and accessories for your bedroom. Tréca means excellence and expert craftsmanship. It is the brand of the grandest hotels in Paris and savoir-dormir à la française.
We have used our expert know-how for generations and continue to pass it on in order to keep our customers happy and satisfied.
The Couture collection is the universe where you realise all your dreams: mattresses with refined finishes, upholstered traditionally by hand, made with 100% natural materials and the springs are bagged in cotton. Because each sleep is unique and deserves the best, we leave nothing to chance.
PLATINUM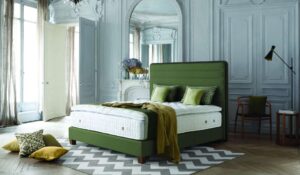 The main advantage of this line lies in its multi-pocket spring suspension combined with generous fillings, including noble and natural materials, and refined details. The Platinum line plays with its many benefits to offer you personalised comfort.
Falling asleep is a moment of pure pleasure that becomes even more pleasurable when the Platinum mattress, bed base and topper are all used together.
Beyond materials, Platinum Essential mattresses break new ground with their asymmetric double suspension. The winter side has a high suspension, specially designed to allow you to snuggle in the hollow of your bed and enjoy the warmth of camel wool, cashmere or silk. The summer side has a lower suspension for greater surface support so you can fully appreciate the freshness of bamboo fibre, linen or silk. Mattress toppers from the Platinum collection go perfectly with Essential mattresses.
IMPÉRIAL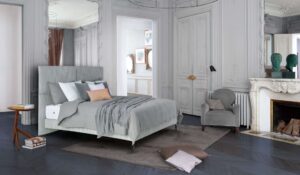 To offer you an array of bespoke and personalised comfort levels, the Impérial collection calls on all our know-how, developed and perfected over the course of our long history.
It offers a wide array of models featuring various pocket spring suspension systems combined with natural and/or technical materials.
"More than just a mattress or bed, Tréca is a lifestyle, an art of living, an art of sleeping."