A pillow top mattress has been designed to provide a softer, more sumptuous feel. These single-sided mattresses feature a sewn-in topper, full of comfy fillings, that cocoon your body as you sink into a blissful and relaxing night's sleep.
With our ReActivePro™ springs with Triple Edge Protection™ you can be assured of complete edge-to–edge support. They are designed to offer a more medium feel without compromising on comfort or mattress edge support. These individual high performance springs move to follow the contours of the body and alleviate pressure points. Each mattress within the collection has a slightly firmer spring at the mattress edge and the smart border is painstakingly side-stitched by hand to ensure support and a tailored border.
The Hypnos Pillow Top ranges found at your preferred retailer offer a choice of natural and sustainable materials, and each is individually handcrafted with the care and heritage that has made Hypnos famous for making the world's most comfortable beds.
Luxuriate in blissful comfort and cushioning, supported by our ReActivePro™ pocket springs and sublime pillow top, full of sumptuous fillings.
Pillow Top mattresses contain British wool, fairly bought and traceable through The Woolkeepers® initiative to assured farms.
With award-winning natural plant based fibres such as responsibly sourced Himalayan allo, kapok and cotton.
Additional layers of Adaptiv comfort springs and/or highly responsive natural Talalay latex for a truly sumptuous feel.
eOlus™ recycled fibres, alongside the pocket springs, allow air to flow around the mattress and moisture to dissipate.
Luxurious woven natural cotton sleep surface – fire-resistant without the need for FR chemicals.
Designed to be recyclable at end of life.
No turn, rotate with the seasons.
Single tension only
Cocooning Comfort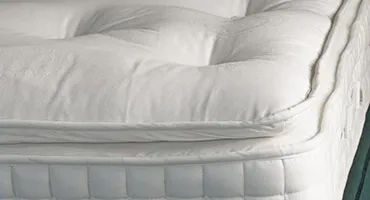 With even more sumptuous and adaptive fillings to choose from, our pillow top layer hugs your body as you sink into blissful and relaxing night's sleep.
Natural Fibres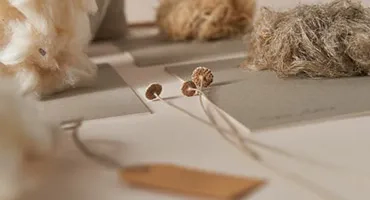 With a combination of award-winning plant based fibres such as Himalayan allo, kapok and cotton and certified British wool.
Traditionally Crafted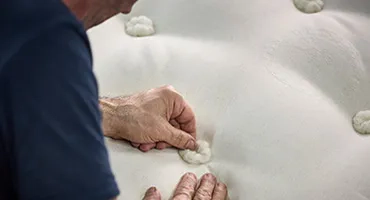 Dreamy comfort is built out of our deep knowledge of mattress design and our obsession with choosing the finest natural and sustainable materials.