Experience the Nottinblú PBS Fluid exclusively at Westend Bed Company – the first and only showroom in the world to showcase this stunning, market-leading adjustable bed.
The Nottinblú PBS Fluid is the world's most advanced bed system. Its breakthrough design employs a friction-free, hydraulic circuit to automatically self-adjust to the weight, shape and movements of the body.
Its motions are fluid and the comfort perfect. The Nottinblú is the only PBS system which has been designed and conceived in Italy, and combines physics with exceptional engineering skills.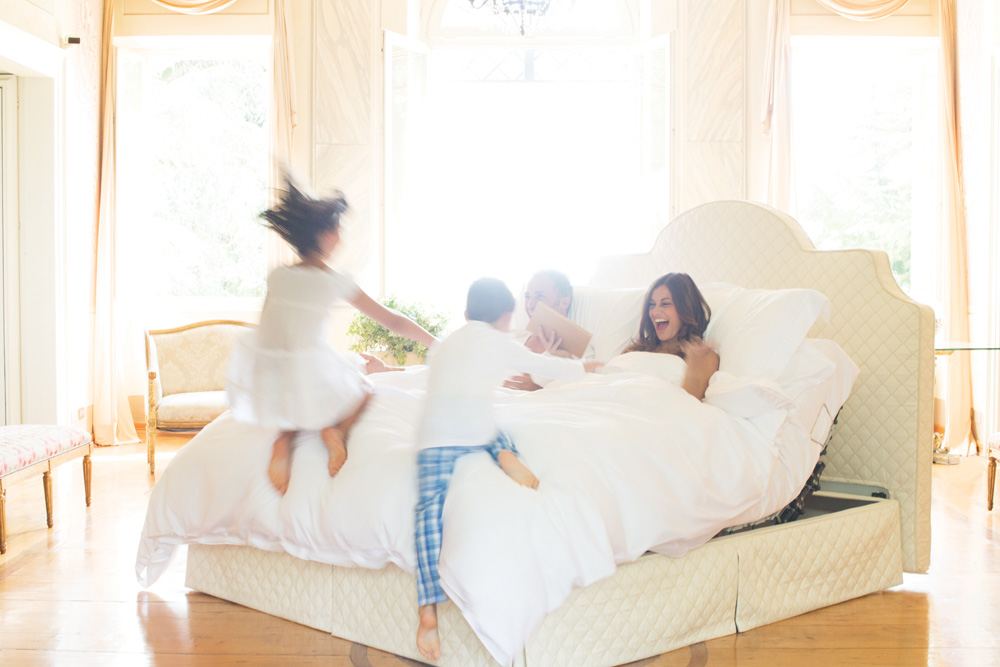 Sleeping on an adjustable bed
The trend for using the bedroom for more than just sleep has resulted in adjustable beds becoming more in vogue. The ability to sit up in bed to watch TV and use laptops and tablets makes adjustable beds a practical alternative to standard beds with the added advantage of being able to find the perfect sleeping position.
PBS Simulator
We also offer a simulator in our showroom where customers can experience the difference between the support a regular base gives in comparison to how the PBS system works. This revolutionary simulator helps to give customers a better idea of what they should be thinking about when making decisions on the most important topic of sleep.
Sleep Consultations
To ensure you find the ideal bed, we offer every customer a complimentary Sleep Consultation with a member of our expert team. These consultations involve a lifestyle evaluation and sleep analysis to help you find the perfect style, model and support system for your individual requirements.
The PBS® system has been applied by using two different manufacturing technologies:
Hydraulic
Hydraulic guarantees both a thrust and counter-thrust movement, thanks to the use of a communicating-chamber concept hydraulic system applied to the mattress support (Fluid):

Friction free: sliding friction is completely eliminated
No breakaway friction: no resistance to start-up motion even after long period in one position;
No spring rate: no change in resistance to applied pressure throughout stroke;
High sensitivity: extremely responsive to small pressure variation;
Long life: smooth, no abrading operation and tough construction ensure long
operating life;
Leak proof: no blow-by leakage.
Rolling Diaphragm Construction
Diaphragm material is essentially a layer of specially woven fabric, impregnated with a thin layer of elastomer. Designed to permit free circumferential elongation (allowing free rolling action) while preventing axial distortion. This eliminates stretching and ballooning during the stroke. The piston slides inside a Teflon bushing inserted into the cylinder head. They are therefore perfectly cylindrical, and this allows a fluid and highly sensitive movement. It is therefore not necessary for maintenance and lubrication. The Aktlva was introduced in 1997 and to respond to a growing demand, in 2002 Aktiva β was launched – less expensive and more suitable to be inserted in any bedframe.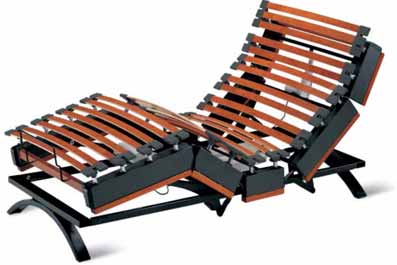 Given the growing success of the products with PBS technology, in January 2007, at the Salon du Meuble de Paris, Nottinblú presented a completely new product range with PBS technology: Fluid with hydraulics technology and Kinetic with mechanical technology. Fluid is the world's most advanced sleep system. In it is contained all the experience gained by Nottinblú from the development of PBS technology, of which it represents the most sophisticated product.

Mechanical
Kinetic is the system that established Nottinblú as a new leader in the bedding world.
Kinetic uses a Nottinblú-designed mechanical system to automatically self-adjust to the body, based on a mechanical application of the equalisation of pressures principle, thanks to a series of sliding pistons connected to each other by a pre-stressed cable which provides for an "action-reaction" movement.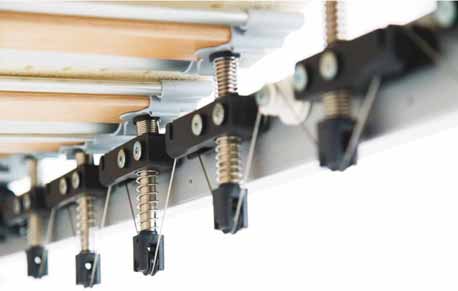 The piston rods are made of carbon steel C40 and are adjusted one by one by CNC machines. They are therefore perfectly cylindrical, and this allows a fluid and highly sensitive movement. They run inside Teflon bushings. No maintenance is therefore necessary.
The rods are interconnected with an AISI 316 stainless steel rope – 49 (7×7) strands Æ 1.25. Kinetic works on the principle of the tackle (multi-pulleys). Because we have 7 rods on each side with relative pulleys this means that in Kinetic if we have 85,4 Kg on just one cylinder it is similar to a force of 12,2 Kg.
Kinetic was tested at Japanese Boken Quality Evaluation Institute and has been subject to a study at the Orthopedics and Traumatology Clinic of the University of Verona, which has certified the effectiveness: "all patients reported greater ease in falling asleep when using the "PBS® bed system", which unquestionably had an impact on the quality of sleep, and as a result, on their psychological and physical recovery". It is used, in his hospital version, for long-term patients and for geriatric departments.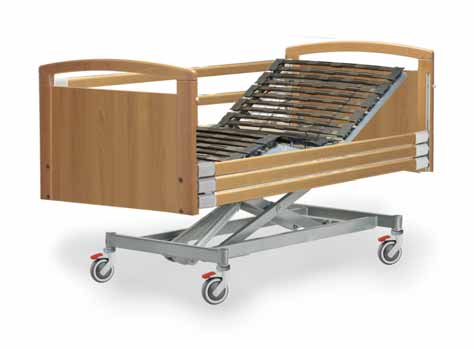 Visit our showroom today to experience the Nottinblú Fluid.