The bedroom should be a haven and an escape from daily life and work stresses – a place where you can truly unwind and relax. Your bed should take centre stage but it's also important to create the right bedroom environment to ensure quality sleep, every night.
Whatever the size of your bedroom, storage will play a key part in the layout, design and style. To create a relaxing, peaceful and calm sanctuary for you to enjoy restorative sleep, Hypnos has created a collection of beds with storage options included in the divan base.
These beds with storage solutions are practical, clever and subtle and will complement the design of your bedroom and home interiors. This collection allows you to easily save space and hide away stored items in the bedroom. The perfect balance between luxury and functionality.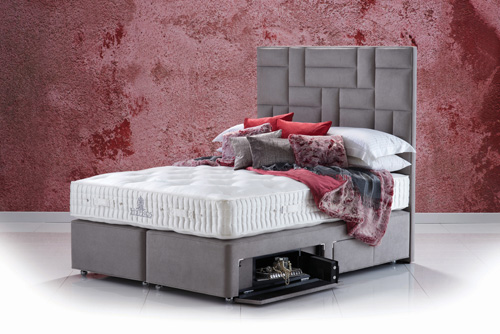 What's the right storage option for me? 
It can be very difficult to keep your bedroom tidy and organised – especially when space is limited. Finding extra storage space can be a real struggle.
The team at Hypnos have developed a collection of beds that offers convenient, beautifully upholstered hidden storage solutions that can be adapted to suit your space requirements. All Hypnos bedroom storage solutions can be configured and combined in multiple ways to suit your bespoke needs.